Issaquah-Fall City Road Phase 2
We are beginning Phase 2 design! The City of Sammamish is continuing improvements to SE Issaquah-Fall City Road/SE Duthie Hill Road corridor. We are beginning design for Phase 2 which is between Klahanie Dr SE and SE Issaquah-Beaver Lake Rd to improve safety and traffic flow for all users.
What's the latest?
The project was paused during 2022 to allow adoption of a new 6-year Transportation Improvement Plan (TIP) and review results of the Balanced Land Use and Mobility Analysis Environmental Impact Statement (BLUMA EIS).
Sign up for email updates to stay up to date on project updates and upcoming opportunities to get involved and provide feedback.
Why are improvements needed?
The SE Issaquah-Fall City Road/Duthie Hill Rd corridor is a vital connection route to residents of the City of Sammamish and surrounding communities. With recent decades of community growth, the needs of this old rural corridor have evolved, and change is needed. Updates are being made to better traffic flow and promote the City's goal of complete streets by including bike lanes, sidewalks, and landscaping along with other safety and environmental improvements.
Phase 1 of the corridor, which extends from 242nd Ave SE to Klahanie Drive SE, was constructed in 2021. Phase 2 will extend improvements from Klahanie Dr SE to SE Issaquah-Beaver Lake Rd.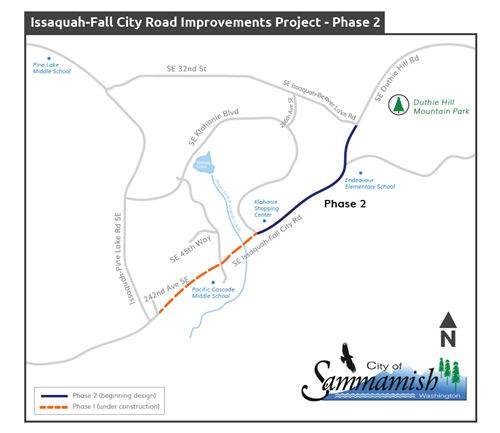 The project area today
The corridor today consists of two-lanes with shoulders and open ditches, and lacks sidewalks, landscaping, and designated bike lanes.
Numerous driveways are along the south side of the corridor to access homes, schools, and small businesses; and Klahanie's pedestrian trail and Green Space Preservation Tract is on the north side. Overgrown roadside vegetation often restricts sight distance and near Endeavour Elementary School, heavy rains in the winter often result in water over the roadway.

Preliminary design concept
The preliminary design concept is based on the City's Arterial Street standard consisting of two travel lanes, a center turn lane or planted median, bike lanes, sidewalks and streetscaping. We are currently gathering community input and data from various traffic and environmental studies to refine the preliminary design concept.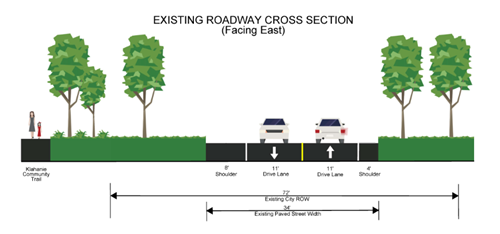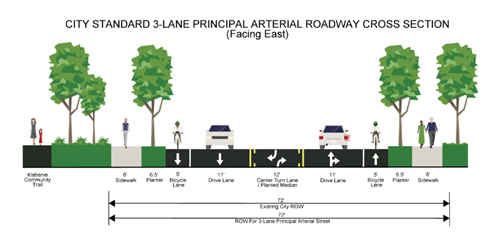 How will the community be involved in the Phase 2 design process?
The City's goal is for the Phase 2 design to reflect the community's priorities and input. Early in the design process we will be gathering feedback to inform the preliminary design process. In 2022, the City will share updates and gather additional public input to refine the vision for the design.
As design progresses, the City will continue to engage with the community to solicit feedback on specific design details, including landscaping, sidewalk and bike lane design, connections to community resources and amenities, and corridor aesthetics. We look forward to working with the community to develop this project to meet your needs and priorities.