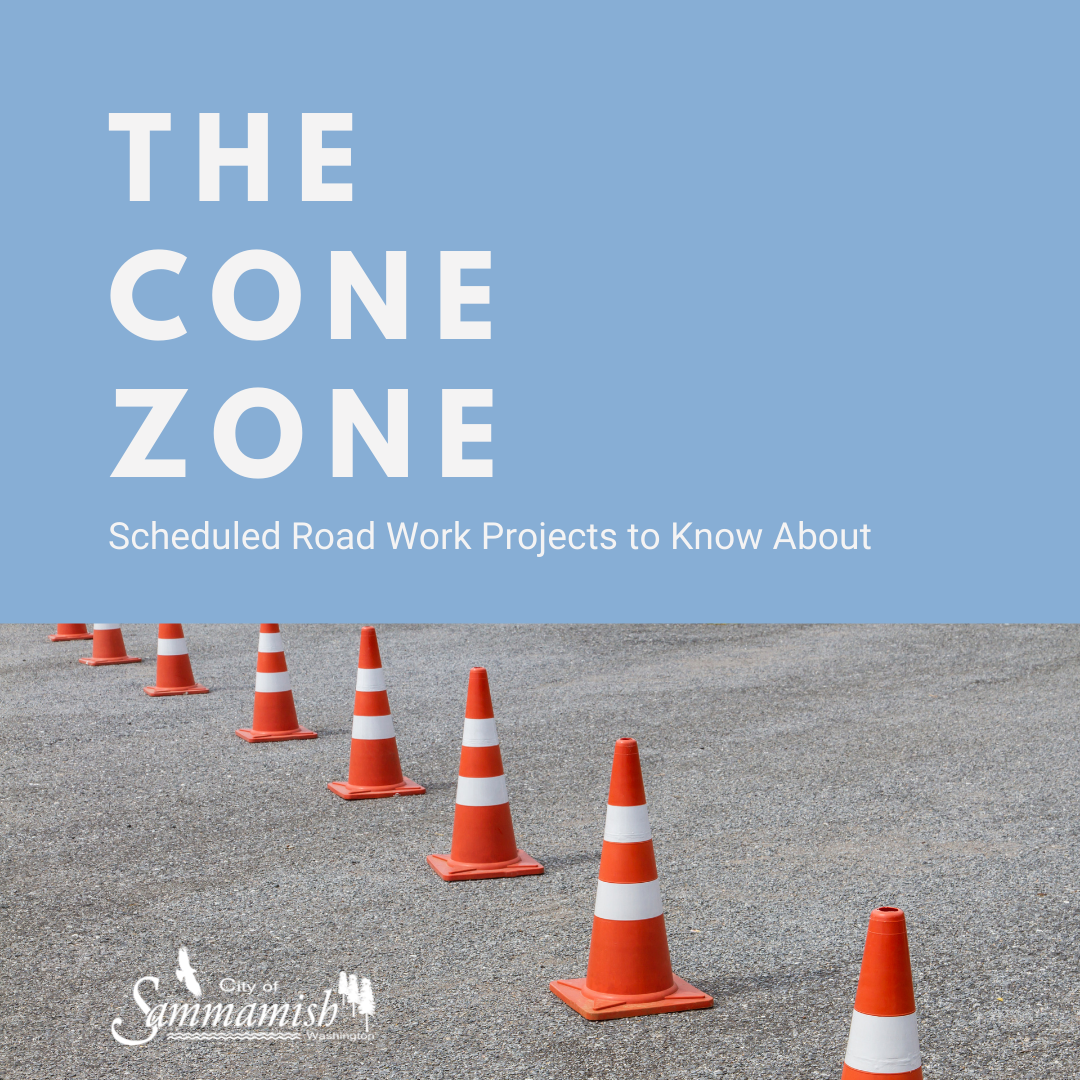 Cone Zone
Subscribe to the Cone Zone newsletter to get weekly updates on road work in Sammamish!
Week of September 30 - October 6
ESLP Sewer Line
ELSP sewer line project has now completed all paving and are currently raising utility iron.
The new schedule for striping on ELSP is the week of October 2nd weather pending.
2023 Overlay Project
| | | |
| --- | --- | --- |
| Project Phase | Hunter's Ridge | Klahanie |
| Utility Adjustments | Oct 2nd - Oct 4th  | Sep 25th – 26th  |
| Pavement Striping | Sep 27th - Sep 29th   | Sep 27th - Sep 29th   |
Updated September 27th, 2023
Resurfacing of the Klahanie and Hunter's Ridge neighborhoods has been completed. Crews are currently working on raising the roadway utilities. Due to inclement weather, the re-striping of the new pavement has been postponed and will be completed when the weather permits. Please continue to check the project website for updates to the construction schedule. 
During construction, traffic must be restricted to one lane, with flaggers controlling the direction of traffic. Drivers should use caution and expect delays.
For more information about the pavement preservation program and to see a map of the roads being re-surfaced, please visit: 
https://www.sammamish.us/projects/2023-pavement-overlays/
East Lake Sammamish Trail South Segment B Stage 2 Construction
This is a King County Trail Project 
The King County East Lake Sammamish Trail (ELST) South Segment B Phase 2 began construction in Spring 2022. All private property owners adjacent to the trail will be able to access their property during construction with limited exceptions for safety reasons. For example, access may be limited, or neighbors may experience short delays during major material unloading or wall construction along a lane. King County plans to incorporate flaggers/spotters on site on site to help pedestrians safely access their properties during daytime.
Project Start Point: Approximately 1,350' south of the intersection of SE 8thStreet / East Lake Sammamish Parkway SE (STA 371+59)
Project End Point: Approximately 750' south of the intersection of NE 16thStreet / East Lake Sammamish Parkway SE (STA 468+00)
The last uncompleted ELST section, the 1.9-miles from Pine Lake Creek to Inglewood Hill Road, will be closed for construction beginning in early June 2022 until December 2023.
For additional project information, please visit the project website:  kingcounty.gov/eastlakesammamishtrail. You may also contact the project team directly by email at ELST@kingcounty.gov or by calling the project hotline at 1-888-668-4886.
East Lake Sammamish Trail South Segment B Stage 1 Construction
The King County East Lake Sammamish Trail (ELST) South Segment B Phase 1 continues with construction. There will be traffic impacts related to the closure of the gravel surface trail segment which causes the re-routing of cyclists and pedestrians to East Lake Sammamish Parkway (ELSP). Additionally, there will be construction traffic on ELSP.
Project Start Point: Intersection of SE 33rd/ East Lake Sammamish Shore Lane Drive SE
Project End Point: Approximately 900' south of the intersection of SE 8thStreet / East Lake Sammamish Parkway SE
---
Notices for construction activity outside of the City of Sammamish:
Emergency bridge closure over Issaquah Creek (SE 156th St. east of Cedar Grove Rd SE): Sept. 8 to mid-October
King County Road Services will close Issaquah Creek Bridge located on SE 156th between Cedar Grove Rd SE and Issaquah Hobart Road SE from 8 a.m. Friday, Sept. 8 through at least 5 p.m. Friday, Oct. 13.
During a routine bridge inspection, engineers found structural issues with the bridge and recommended a full closure until emergency repairs can be made.
All traffic (including vehicles, bicycles and pedestrians) will be prohibited from using the bridge until further notice. Please plan to use alternate routes, there is no posted detour.
View the closure on My Commute. 
Road maintenance on 244th Ave NE near Redmond Fall City Rd (SR-202)
This is a King County Local Services project.
Due to a slide occurring in winter 2020, both lanes of 244th Ave NE are narrowed until the impacted support wall can be repaired. The repair of the support wall is expected to begin in Summer 2024. Soil samples yielded unexpected data, which caused the design phase to be extended. King County Road Services Division has a 24/7 Road Helpline - (206) 477-8100. More information on this project.
Downtown Redmond Link Extension (DRLE) - Sound Transit work
CONSTRUCTION ALERT - Ongoing closures of Cleveland Street in Downtown Redmond starting July 10th, 2023.
This is a City of Redmond and Sound Transit project.
Where: Cleveland Street between 164th Ave NE and 166th Ave NE will be closed to people driving, walking, or rolling so work may be performed on the roadway and sidewalk.
When: Closures will begin on Monday, July 10, and will be in place intermittently through the second week of August. Pedestrian access to local businesses will be maintained at all times.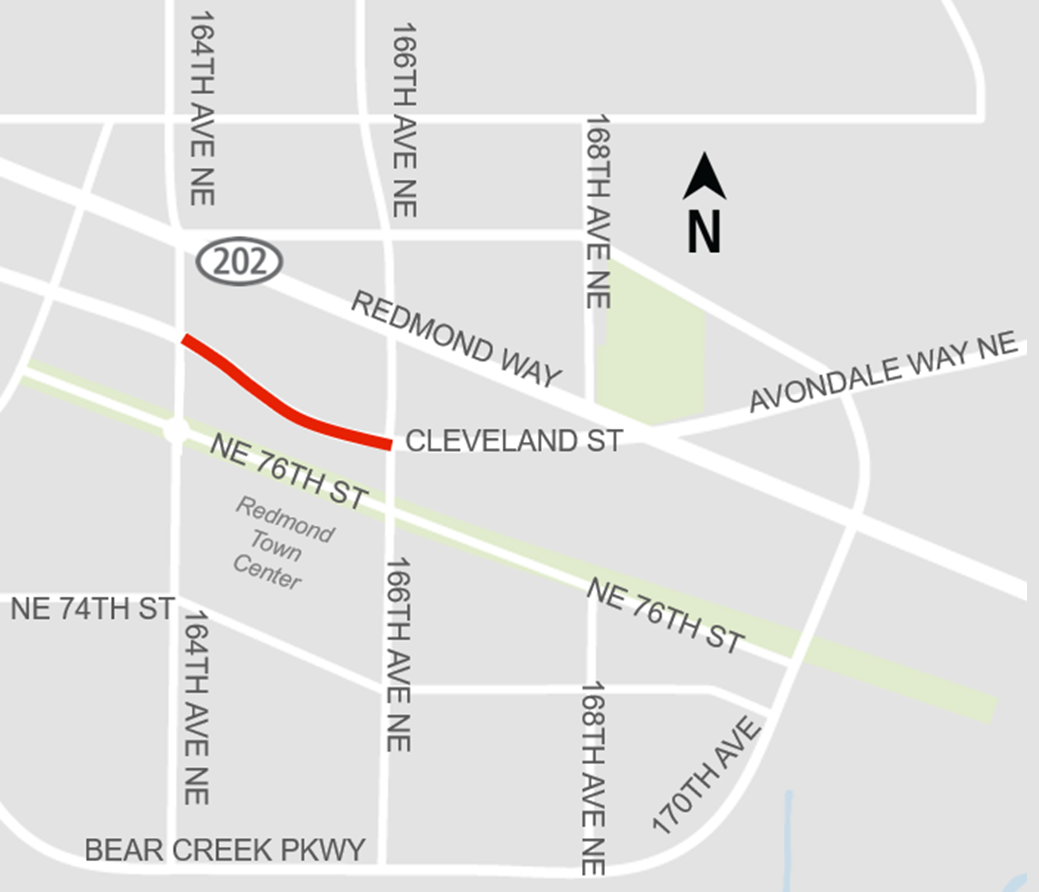 Outreach Specialist: charlie.hockett@soundtransit.org or 206-553-3736

To stay up-to-date and learn more about this project, please visit the DRLE tab.
---
WSDOT King County News Alert: 
Significant service disruptions for Link riders start on August 12
Link 1 Line riders should prepare for two service disruptions from August into September as the agency undertakes essential maintenance work to ensure the state of good repair of the light rail system.
Traffic Alert: I-90 Lane Closures
Washington State Department of Transportation (WSDOT) crews are continuing repairs on the Interstate 90 project, which will have congestion impacts, especially during peak travel time. These are a continuation of repairs WSDOT began in summer 2022. While this work is occurring, please plan ahead and allow extra time.
State Route 18 Closures:
People who use State Route 18 should expect slight traffic shifts during the daytime commute and intermittent nightly lane reductions. This may be as early as 8 p.m. Mondays through Thursdays, with all lanes reopening by 5 a.m. Flaggers will direct motorists when traffic is reduced to one lane. People should continue to plan extra time for their trips, as contractor crews work to widen the highway and redesign the interchange.
More information can be found here: https://wsdot.wa.gov/construction-planning/search-projects/i-90-sr-18-interchange-improvements 
Eastbound I-90 Changes to Eastgate Neighborhood in Bellevue
Beginning at 4:00am Tuesday, August 22, the eastbound lanes of I-90 will shift to the left and into a newly paved area between I-405 and 148th Ave SE. Four hours before that, there will be a rolling slowdown across all eastbound lanes while crews stripe new, temporary lanes on the freeway. The traffic shift and temporary lane stripes will be in place for about six months before shifting again to the right.
This work is part of the I-90 Fish Passage project. For more information, please visit https://wsdot.wa.gov/construction-planning/search-projects/i-90-sunset-creek-fish-passage