Downtown Redmond Link Extension
CONSTRUCTION ALERT
Weekend closure of off-ramp from eastbound SR 520 to Redmond Way/SR 202
Beginning the evening of Friday, June 2, crews will be closing the off-ramp from eastbound State Route 520 to Redmond Way/State Route 202 for construction. This closure will be in place from 10 p.m. on Friday, June 2 to 5 a.m. on Monday, June 4. Dates and times are subject to change due to inclement weather or unforeseen issues. Please budget extra time for travel. See the map below for detours.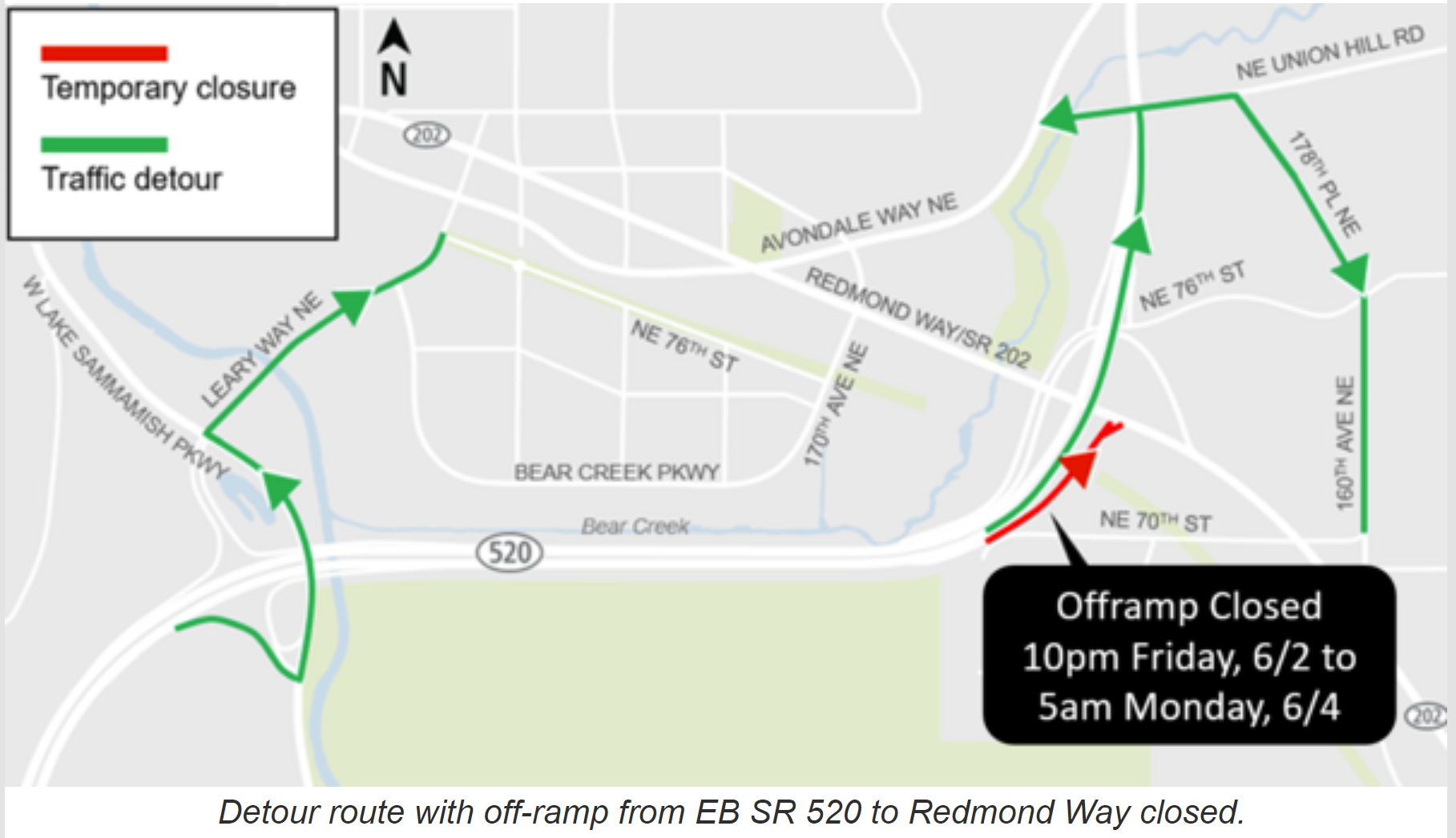 Contact Sound Transit:
Community Engagement: charlie.hockett@soundtransit.org or 206-553-3736
After-hours construction hotline: 888-298-2395
Project Update
The Sound Transit System Expansion Committee (SEC) was briefed on August 18, 2022 on construction delays affecting four programs in the Link Light Rail Expansion. The delays affect the Downtown Redmond Link Extension (DRLE). Anticipated delays for Downtown Redmond Link construction completion are driven primarily by the concrete delivery strike and COVID-19. Construction schedule impacts due to these two factors have been quantified and negotiated with the contractor to be four and a half months, which is mitigated in part by owner-controlled float in the project schedule.
Sound Transit has more work to do to ascertain new opening dates for the projects, but they are anticipating the following based on a combination of construction issues, pandemic challenges, and the concrete delivery strike:
East Link: delayed at least a year from the earlier June 2023 opening date
Downtown Redmond Link: previously scheduled for delivery in mid-2024, now expected to be delayed by four to six months
Learn more about delays and this announcement on Sound Transit's website. 
Watch Julie Timm's (CEO of Sound Transit) December 8, 2022 update on Link projects.
Project Overview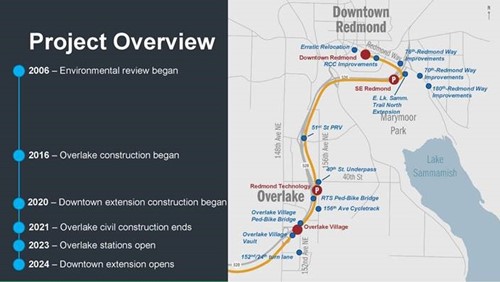 The City of Redmond is preparing for the arrival of four light rail stations: Overlake Village and Redmond Technology Stations in 2023, and the Southeast Redmond and Downtown Redmond Stations in 2024.
Sound Transit's Downtown Redmond Link Extension (DRLE) in Southeast Redmond in Marymoor Village, and Downtown Redmond adjacent to the Redmond Central Connector are both scheduled to open in 2024. Sound Transit's Board of Directors have chosen the names for the two stations in Downtown Redmond: Marymoor Village Station and Downtown Redmond Station. The selected names were a culmination of collaboration with the community, City of Redmond staff and Sound Transit Staff.
Due to the proximity to Sammamish and the potential for construction-related traffic impacts to Sammamish residents, the City is sharing information on the DRLE to keep residents informed.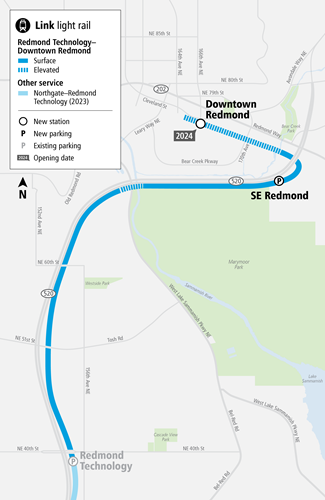 Learn more about these projects
How to Get Project Updates
Sound Transit is working to keep businesses and residents informed as construction for the Downtown Redmond Link Extension (DRLE) continues to progress along the entire 3.4 - mile alignment. Sound Transit provides regular updates for all of its projects including DRLE. Community members can go to Sound Transit (govdelivery.com) to subscribe to updates for particular projects.
How to Get Traffic Alerts from the City of Redmond
Redmond Light Rail Extension
The Downtown Redmond Link Extension (DRLE) adds two new light rail stations in 2024 in southeast Redmond, serving Marymoor Village near Marymoor Park, and in the downtown residential and retail core. The DRLE will extend the future "2 Line" 3.4 miles from the future Redmond Technology Station at NE 40th Street to Downtown Redmond. With two stations, Marymoor Village Station and Downtown Redmond Station, the DRLE project will connect the Redmond community with the larger Puget Sound region. 
Projected travel times
Downtown Redmond to Westlake: 45 minutes
Marymoor Village Station to Bellevue Downtown Station: 15 minutes