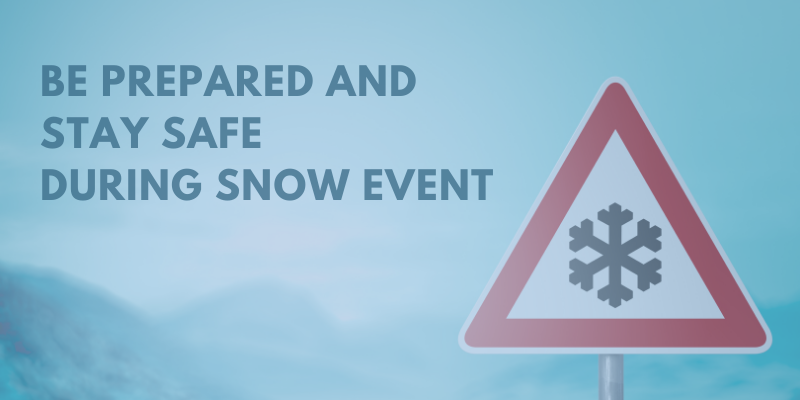 Snow and Ice Event Frequently Asked Questions (FAQ)
UPDATED JANUARY 2022
The City of Sammamish receives a lot of questions about City procedures before, during, and after snow events. We've compiled many of them below with the answers from our Streets and Stormwater Division experts.
How does the city prepare for snow and ice events and what happens when the snow hits?
Long before the snow arrives, the City prepares by making sure:

our equipment is in good working order;
we have our materials (sand, salt, and liquid de-icer) stocked; and
we have an updated communication plan.

The City of Sammamish has a snow and ice removal priority system in place to clear our 250 lane miles of public roads and over 730 cul-de-sacs
Once a snow or ice event has been forecasted and the likelihood of snow is high, the crews apply a layer of anti-icer to all priority roads
After the snow starts to fall/accumulate, snowplows may operate 24 hours a day until the end of the event, or several days after depending on the severity of the event
The plowing time required depends on several variables such as the snowstorm intensity, duration, and the weather and road temperatures before, during, and after
How do you decide which streets to prioritize?
For any snow or ice event, our number one goal is to keep designated priority routes in good winter driving condition
Priority routes are lifelines, major thoroughfares, and arterial roadways and streets
Why doesn't the city de-ice and plow all the streets – specifically secondary and residential streets?
The City has 250 lane miles to cover with limited resources, including

twelve snowplows;
storage capacity for de-icer and salt to treat surfaces; and
maintenance personnel

Our priorities must focus on ensuring accessibility for lifelines, main arterials and thoroughfares, main connector streets, and major hills and curves
During snow and ice events our crews and snow removal equipment are out on the streets, often 24 hours a day
We do not plow or de-ice private roads or driveways
What do you do about medical emergencies?
If there is an emergency, call 9-1-1
The City always works with emergency service providers when emergency response is necessary
What kind of equipment does Sammamish have to deal with snow and ice?
Sammamish has 12 snowplows to cover 250 lane miles of roads and over 730 cul-de-sacs
All plow trucks carry either a sander or a liquid deicer tank. Our inventory of sanders and de-icers includes a total of 12 sanders ranging from 3 to 10-yard capacities and 6 truck-mounted deicing tanks ranging from 300 to 500-gallon capacities
The Maintenance and Operations Center (MOC) has the capacity for 250 yards of road salt and 35,000 gallons of deicer. Just prior to a snow event, we begin the process of ordering more supplies (deicer & road salt) to replenish our stock. There can be a three-day lead time for both products as well as a priority system with the State and Counties having first priority
What do you use for de-icing?
We use a liquid deicer called CCB, it's made of calcium chloride (salt), molasses, water, and a corrosion inhibiter called boost, which is a proprietary ingredient
Why doesn't the City use sand?
Under our NPDES Phase II Municipal Stormwater Permit, the city is required to start the removal of all sand used within the roadway within 24 hours after the road is clear of snow and ice
Due to this restriction, we only use sand in certain instances, locations, or if our supply of road salt is interrupted due to delivery or supplier issues
Are there any tips for safe driving during snowstorms?
Slow down in winter weather; driving too fast for conditions causes most accidents
Take the extra time to clear your car of snow and ice before leaving for your destination
When driving at night, keep your headlight beams low – high beams can amplify the appearance of snow and lead to decreased visibility
Carry tire chains in your car and know how to use them. Here's information on how to install tire chains. There are also many videos available on YouTube.
Always wear your seatbelt
Do not abandon your car in the middle of a road – it's a hazard for other drivers and may block the path of emergency response vehicles and snow plows
Will the snowplows ever completely clear my residential street down to bare pavement?
It is not the goal of the City's Snow and Ice Policy to have all streets clear down to the bare pavement. Our goal is to plow snow to the edge and/or provide a passable route
I saw the snow plow in my neighborhood but it did not plow my street/cul-de-sac.
Once the priority 1, 2, 3, and 4 roads are in good shape our crews will start working on the neighborhood streets
The first goal once neighborhood street plowing begins is to get the main road through a neighborhood passable (not clear). From there, the crews will work on the major hills
It is important to remember that our crews still must maintain the priority roads. They may start in your neighborhood and then leave as conditions change on priority routes.
How long will it take to finish plowing all the streets?
This depends on the severity of the event, but our crews and equipment are out working 24 hours a day during snow events
It may 2 to 3 days, or more, to actually get into the neighborhoods due to the factors discussed herein
How do I report that the snowplows missed my street?
Please do not use My Sammamish Fix It/See Click Fix to report that your street has not been plowed
Please do not call Public Works to report that your street has not been plowed – if it is an emergency, call 911
Our crews and plows must work on priority routes first and then move on to working on the neighborhood hills and arterials
When snow continues to fall, plows will not be available to clear local residential and less-traveled roads. This is because they must continue working to ensure major roads and transit routes are clear.
What can I do about snow plows that block my driveway with snow?
This is an unfortunate side effect of plowing – snow must be plowed to the curb and, as a result, sometimes driveways get blocked
It is the property owner's responsibility to clear the snow from the bottom of the driveway –please, do not put the snow back in the street
What can residents do to help during snow and ice events?​
First, avoid driving if it's at all possible
Park all vehicles in the driveway/off the street
If you have room, share driveway space with your neighbor
If able, shovel snow away from hydrants and drain inlets
When shoveling or using a snowblower, do not deposit snow into the street
Why do the plows cover over the areas I just shoveled? Am I responsible for those areas?
When snow plowing takes place, snow is not removed but rather pushed to the right side of the road
Snowplow drivers will make every effort to avoid plowing snow onto sidewalks or driveways. However, there may be times that this cannot be avoided and sidewalks or driveways may become blocked
It is the property owner's responsibility to clear the snow from the bottom of the driveway – please, do not put the snow back in the street
I saw a city snowplow driving around during the storm with its blade up. Why wasn't it plowing?
It is the goal of the city to plow streets systematically based on priorities
Snowplows may travel with their blades up under the following circumstances:

when they are moving from one location to another;
are returning to refuel; or
have more de-icing material loaded on the truck

Also, once the de-icer is applied, we do not plow so the product has time to melt the ice and snow
Who is responsible for shoveling around the group mailboxes and sidewalks?
If the group mailbox fronts a neighborhood sidewalk, the adjacent property owner or Homeowner's Association (HOA) is responsible for shoveling the sidewalk in front of the group mailboxes. This is similar to sidewalk clearing requirements.
Property owners are responsible for removing snow and ice from the sidewalk adjacent to their property.