Winter Storms
A winter storm occurs when there is significant precipitation with low temperatures. A winter storm can range from a few hours to several days. Precipitation may form as sleet or snow, or rain may turn to ice. It may be freezing rain and ice, snow, or a blizzard. Many winter storms are accompanied by high winds and dangerously low temperatures.
Winter storms can cause power outages that last for days. They can make roads extremely dangerous or impassable. Critical community services may be closed or limited, such as public transportation, child care, health programs and schools. Injuries and deaths may occur from exposure, dangerous road conditions, and carbon monoxide poisoning and other conditions.
Before snowstorms and extreme cold
Plan ahead
Sign up for email and text alerts from the City of Sammamish 
Know the City of Sammamish Snow and Ice Maintenance Routes for snow plowing and anti-icer application. See the Snow & Ice Route Map.
Get the Puget Sound Energy - MyPSE app to receive and report power outage information.
Make a Family Communications Plan.

Your family may not be together when disaster strikes. Plan ahead so you know how to contact one another.
Your plan should address how you will get back together and what you will do in case of an emergency.

Plan to check on elderly/disabled relatives and neighbors.
Prepare your home
Make an emergency kit for up to two weeks of self-sufficiency.
Make sure your home is well insulated. Install weather stripping around your doors and window sills to keep warm air inside.
Make sure you have working carbon monoxide detectors.
Keep fire extinguishers on hand. Make sure everyone in your house knows how to use them. House fires pose an additional risk during winter storms. To avoid fire, always take necessary safety precautions when using alternate heating sources.
Learn how to shut off water valves in case a pipe bursts.
If you have a wood-burning fireplace, consider storing wood to burn if your power goes out. Make sure you have your chimney cleaned and inspected every year.
Have at least one of the following heat sources in case the power goes out:

Extra blankets, sleeping bags and warm winter coats
Fireplace or wood-burning stove with plenty of dry firewood, or a gas log fireplace

Keep space heater safety in mind:

Use electric space heaters with automatic shut-off switches and non-glowing elements.
Remember to keep all heat sources at least three feet away from furniture and drapes.

Know where the manual release lever of your electric garage door opener is located. Know how to operate it so you're prepared if you lose power.
Purchase appliance thermometers and place in refrigerator and freezer to monitor food temperatures if power goes out.
If you depend on electricity to operate medical equipment, you should plan ahead for power outages. Have alternate arrangements in place in case power is out for an extended period of time.
Prepare your vehicle
Fully winterize your vehicle:

Your antifreeze, brakes, heater, defroster, tires, and windshield wipers should be in good shape. Have a mechanic check these before winter storms hit.
Keep your gas tank at least half full.

Keep an extra emergency kit specifically created for your car. In addition to the basic essentials, consider adding:

a portable cell phone charger,
ice scraper,
extra blanket,
sand for traction and
jumper cables.

Make sure you have a cell phone with an emergency charging option (car, solar, hand crank, etc.) in case of a power failure.
Plan for bringing pets.
During snowstorms and extreme cold
Stay indoors during the storm.
Drive only if it is absolutely necessary. If you must drive:

travel in the day;
don't travel alone;
keep others informed of your schedule and your route;
stay on main roads and avoid back road shortcuts.

Walk carefully on snowy, icy, walkways.
Avoid overexertion when shoveling snow. Overexertion can bring on a heart attack—a major cause of death in the winter. Use caution, take breaks, push the snow instead of lifting it when possible, and lift lighter loads.
Keep dry. Change wet clothing frequently to prevent a loss of body heat. Wet clothing loses all of its insulating value and transmits heat rapidly.
If you must go outside, wear several layers of loose-fitting, lightweight, warm clothing rather than one layer of heavy clothing. The outer garments should be tightly woven and water repellent.
Wear mittens, which are warmer than gloves.
Wear a hat and cover your mouth with a scarf to reduce heat loss.
Cold-related illnesses
Frostbite is a serious condition that's caused by exposure to extremely cold temperatures.
Hypothermia is a dangerous condition that can occur when a person is exposed to extremely cold temperatures. Hypothermia is abnormally low body temperature. It is caused by prolonged exposure to very cold temperatures.
When exposed to cold temperatures, your body begins to lose heat faster than it's produced. Lengthy exposures will eventually use up your body's stored energy, which leads to lower body temperature.
Warning signs of hypothermia include:
Adults: 

shivering,
exhaustion,
confusion,
fumbling hands,
memory loss,
slurred speech,
drowsiness

Infants:

bright red, cold skin,
very low energy
If you notice any of these signs, take the person's temperature. If it is below 95° F, the situation is an emergency—get medical attention immediately.
Carbon monoxide
Caution! Each year, an average of 430 Americans die from unintentional carbon monoxide poisoning. There are more than 20,000 visits to the emergency room with more than 4,000 hospitalizations.
Carbon monoxide-related deaths are highest during colder months. These deaths likely happen when people use carbon monoxide-producing devices inside during power outages. Heating, cooking, and power sources powered by gasoline, propane or charcoal produce carbon monoxide, a poisonous but odorless gas.
Never use a gas-operated or charcoal-burning device indoors. There is a danger of carbon monoxide poisoning.


This applies to generators, grills, camp stoves, and other gasoline, propane, natural gas, or charcoal-burning devices.
Do not use inside a home, garage, basement, crawlspace, or any partially enclosed area.
Locate the unit away from doors, windows, and vents that could allow carbon monoxide to come indoors.
Keep these devices at least 20 feet from doors, windows, and vents.

When using alternate sources for electricity, heating, or cooking, the primary hazards are carbon monoxide poisoning, electric shock, and fire.
Install carbon monoxide alarms in central locations on every level of your home and outside sleeping areas. These alarms provide early warning of accumulating carbon monoxide.
If the carbon monoxide alarm sounds move quickly to a fresh air location. Preferably move outdoors, otherwise by an open window or door.
Call for help from the fresh air location and remain there until emergency personnel arrives to assist you.
After winter storms and extreme cold
Continue to protect yourself from frostbite and hypothermia by wearing warm, loose-fitting, lightweight clothing in several layers. Stay indoors, if possible.
You may want to go to a public shelter if you won't be able to stay warm overnight. You could consider going during the day if your home loses power or heat for beyond a few hours. The American Red Cross Emergency App provides up-to-date information on open public shelters and weather information.
Bring any personal items that you would need to spend the night (such as toiletries and medicines).
Take precautions when traveling to the shelter. Only go if you can get there safely. 
Dress warmly in layers, wear boots, mittens, and a hat.
Snow Event Frequently Asked Questions (FAQ)
Release Date: February 09, 2021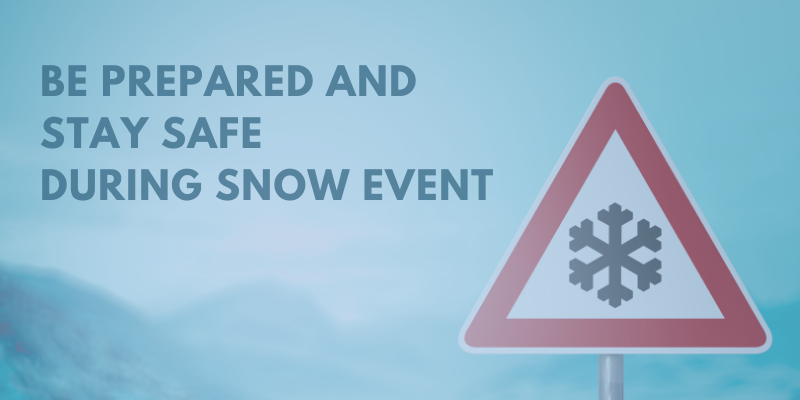 The City of Sammamish receives a lot of questions about City procedures before, during, and after snow events. We've compiled many of them below with answers from our Streets and Stormwater Division experts.
Frequently Asked Questions
How does the city prepare for snow and ice events and what happens when the snow hits?
City of Sammamish has a snow plowing priority system in place. The City has 250 lane miles of public roads and over 730 cul-de-sacs.
If a snow or ice event is forecast with high likelihood, crews apply a layer of anti-icer to all roads.
After snow starts to fall or accumulate, snowplows are operated 24 hours a day until the end of the event. This may extend several days after, depending on the severity of the event.
The plowing time required depends on several variables. These include the intensity and length of the snowstorm and the temperature before, during, and after.
How do you decide which streets to prioritize?
For any snow event, our number one goal is to keep designated priority routes in good winter driving condition
Priority routes are lifelines, major thoroughfares, and arterial roadways and streets
Why doesn't the city de-ice and plow all the streets – specifically secondary and residential streets?
The City has 250 lane miles to cover and limited resources. We have twelve snowplows. During previous snow events, three of our snowplows were occupied full-time keeping 228th clear.
Other resource limitations include storage capacity for de-icer and salt to treat surfaces, and maintenance personnel.
We prioritize ensuring accessibility for lifelines, main arterials and thoroughfares, main connector streets, and major hills and curves.
During snow events, our crews and snow removal equipment are out on the streets 24 hours a day.
We do not plow or de-ice private roads or driveways.
What do you do about medical emergencies?
If there is an emergency, call 9-1-1
The City always works with emergency service providers when emergency response is necessary
What kind of equipment does Sammamish have to deal with snow and ice?
Sammamish has twelve snowplows to cover 250 lane miles of roads, and over 730 cul-de-sacs.
All plow trucks carry either a sander or a liquid deicer tank. Our inventory of sanders and deicers include 12 sanders and 6 truck mounted deicing tanks.
The Maintenance and Operations Center has capacity for 250 yards of road salt and 35,000 gallons of deicer. Just prior to a snow event, we are already ordering more supplies to replenish our stock. There is at least a three-day lead time for both products. Additionally, a priority ordering system gives the State and Counties first priority.
What do you use for de-icing?
We use a liquid deicer called CCB. It is made of:
calcium chloride (salt),
molasses,
water, and
a corrosion inhibiter called Boost (a proprietary ingredient)
Why doesn't the City use sand?
The City must begin removing sand on the roadway within 24 hours of being cleared of snow and ice. Our NPDES Phase II Municipal Stormwater Permit requires this to protect waterways from pollution. Due to this restriction, we only use sand in certain instances and locations. We may also use sand if our supply of road salt is interrupted due to delivery or supplier issues.
What are tips for safe driving during snowstorms?
Slow down in winter weather. Most accidents in storms are caused by driving too fast for conditions.
Take the extra time to clear your car of snow and ice before leaving for your destination.
When driving at night, keep your headlight beams low. High beams can amplify snow's appearance and decrease visibility.
Carry tire chains in your car and know how use them. Refer to this guide on how to install tire chains; there are also many videos available on YouTube.
Always wear your seatbelt.
Do not abandon your car in the middle of a road. It's a hazard for other drivers. It may also block the path of emergency response vehicles and snow plows.
Will the snowplows ever completely clear my residential street down to bare pavement?
Clearing all streets to bare pavement is not the goal of the City's Snow and Ice Policy.
I saw the snow plow in my neighborhood but it did not plow my street/cul-de-sac?
Once the priority 1, 2, 3, and 4 roads are in good shape, our crews will start working on the neighborhood streets
Once neighborhood street plowing begins, the first goal is to get the main road through a neighborhood passable (not clear). From there, the crews will work on the major hills.
Our crews still have to maintain the priority roads. They may start plowing your neighborhood and have to leave to do so.
How long will it take to finish plowing all the streets?
This depends on the severity of the event. Our crews are out working 24 hours a day during snow events.
How do I report that the snowplows missed my street?
Please do not use My Sammamish Fix It/See Click Fix to report that your street has not been plowed.
Please do not call Public Works to report that your street has not been plowed. If it is an emergency, call 911.
Our crews and plows must work on priority routes first. Then, they move on to working on neighborhood hills and arterials.
While snow continues to fall, plows will not be available to clear local residential and less-traveled roads. When it is snowing, they must continue working to ensure major roads and transit routes are clear.
What can I do about snowplows that block my driveway with snow?
This is an unfortunate side effect of plowing. Snow must be plowed to the curb to clear the traffic lane. As a result, sometimes driveways get blocked.
It is the property owner's responsibility to clear the snow from the bottom of the driveway. Please do not put the snow back in the street.
What can residents do to help during snow and ice events?
First, avoid driving if it's at all possible
Park all vehicles in driveway/off the street
If you have room, share driveway space with your neighbor
If able, shovel snow away from hydrants and drain inlets
When shoveling or using a snow blower, do not deposit snow into the street
Why do the plows cover over the areas I just shoveled? Am I responsible for those areas?
When snow plowing takes place, snow is not removed but rather pushed to the right side of the road.
Snowplow drivers will make every effort to avoid plowing snow onto sidewalks or driveways. Unfortunately, sometimes this cannot be avoided. In those cases, sidewalks or driveways may be blocked.
It is the property owner's responsibility to clear the snow from the bottom of the driveway. Please, do not put the snow back in the street.
I saw a city snowplow driving around during the storm with its blade up. Why wasn't it plowing?
It is the goal of the city to plow streets systematically based on priorities. When snowplows are moving from one location to another, they may travel with their plow blades up.
When returning to refuel or load more de-icing material on the truck, they may travel with their plow blades up.
Once de-icer is applied, we do not plow so the product has time to melt the ice and snow.
Who is responsible for shoveling around the group mailboxes and sidewalks?
The Homeowner's Association (HOA) is responsible for clearing in front of group mailboxes that front to a sidewalk. If the neighborhood does not have an HOA, the adjacent property owner is responsible.