Laughing Jacobs Basin Plan
Project Overview
The City of Sammamish continues efforts toward completing the Laughing Jacobs Basin Plan.  This plan will describe natural and built conditions in the drainage basin, and focus attention on surface and stormwater concerns and potential solutions. 
This plan implements Goal 2 of the City's 2016 Storm and Surface Water Comprehensive Management Plan which is to "Use drainage basin planning to allocate limited resources to address priority problems and opportunities."
The Public Works Department initiated the basin planning process in 2019. The City retained Geosyntec Consultants, Inc. to conduct the necessary study and draft the final plan. Geosyntec's Issaquah staff have supported this effort through water quality sampling, public outreach, characterizing the current resources and vulnerabilities, and documenting their efforts.
What is the Laughing Jacobs Watershed?
The Laughing Jacobs watershed spans about 3,600 acres across the communities of southern Sammamish and northern Issaquah (see basin map). The watershed has parks, open spaces, and important wetlands that help reduce flooding and clean water. It's also home to bobcats, herons, eagles, deer, and other wildlife.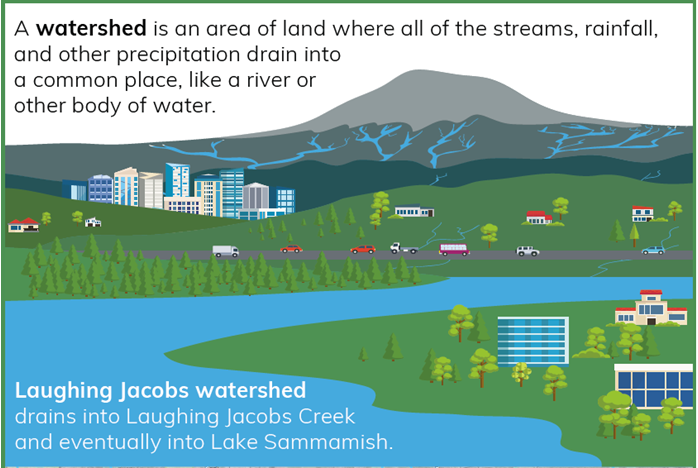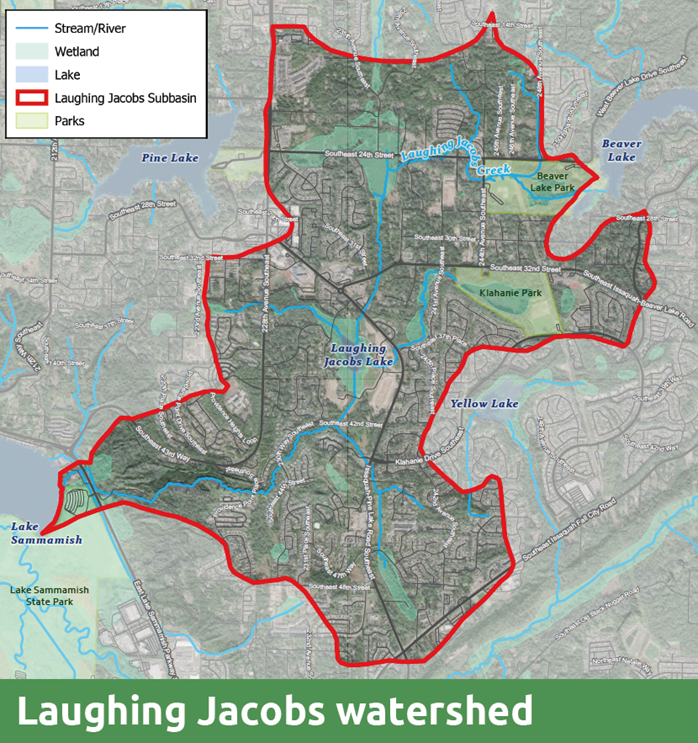 Why do we need a plan?
Sammamish and Issaquah are some of the fastest-growing cities in the region, and more housing, buildings, and roads can threaten the watershed's health. Healthy watersheds not only reduce flooding and provide clean water; they also provide benefits to those who live and work nearby, such as providing access to natural areas, which can reduce stress.
A smart basin plan is essential to make sure our communities grow in a way that works with the environment to reduce flooding and protect natural areas. This basin plan will help us lead the way in smart growth across the region.
What will the plan do?
The Laughing Jacobs Basin Plan will check up on the current health of the basin and identify priority projects to help reduce flooding and preserve natural areas. The plan will recommend action items for the City of Sammamish to invest its limited resources in areas where they are needed most.
How did residents give input?
The City held an open house in June of 2019 at Beaver Lake Middle School.  That successful event provided a great opportunity for the community to become acquainted with the project and to express their concerns and priorities. We also collected feedback through an online survey and received further comments through direct communication with residents.
Timeline