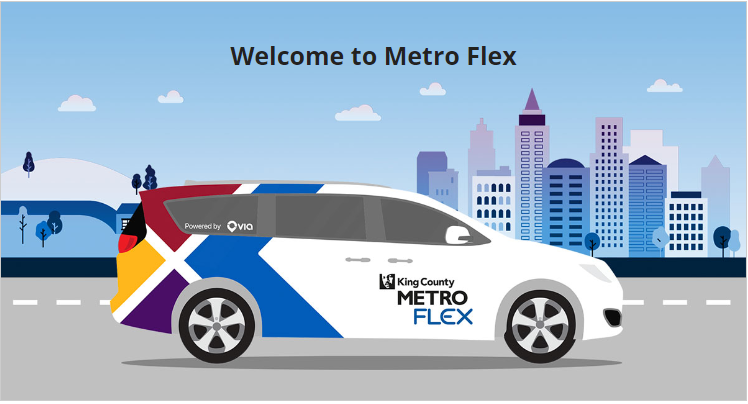 On March 6, 2023, the new program Metro Flex replaced Sammamish Community Ride.

What is Metro Flex?
Metro Flex is an on-demand neighborhood transit service that will consolidate multiple on-demand services that exist throughout the region: Community Ride, Ride Pingo to Transit and Via to Transit (Note that Sammamish only had "Community Ride" and not the other two programs).
Similar to Sammamish Community Ride, Metro Flex will allow community members to ride anywhere in their service area for the same cost as a bus trip. It does not follow a fixed route. Instead, it picks up passengers from their location and drops them off at their destination within a specified service area.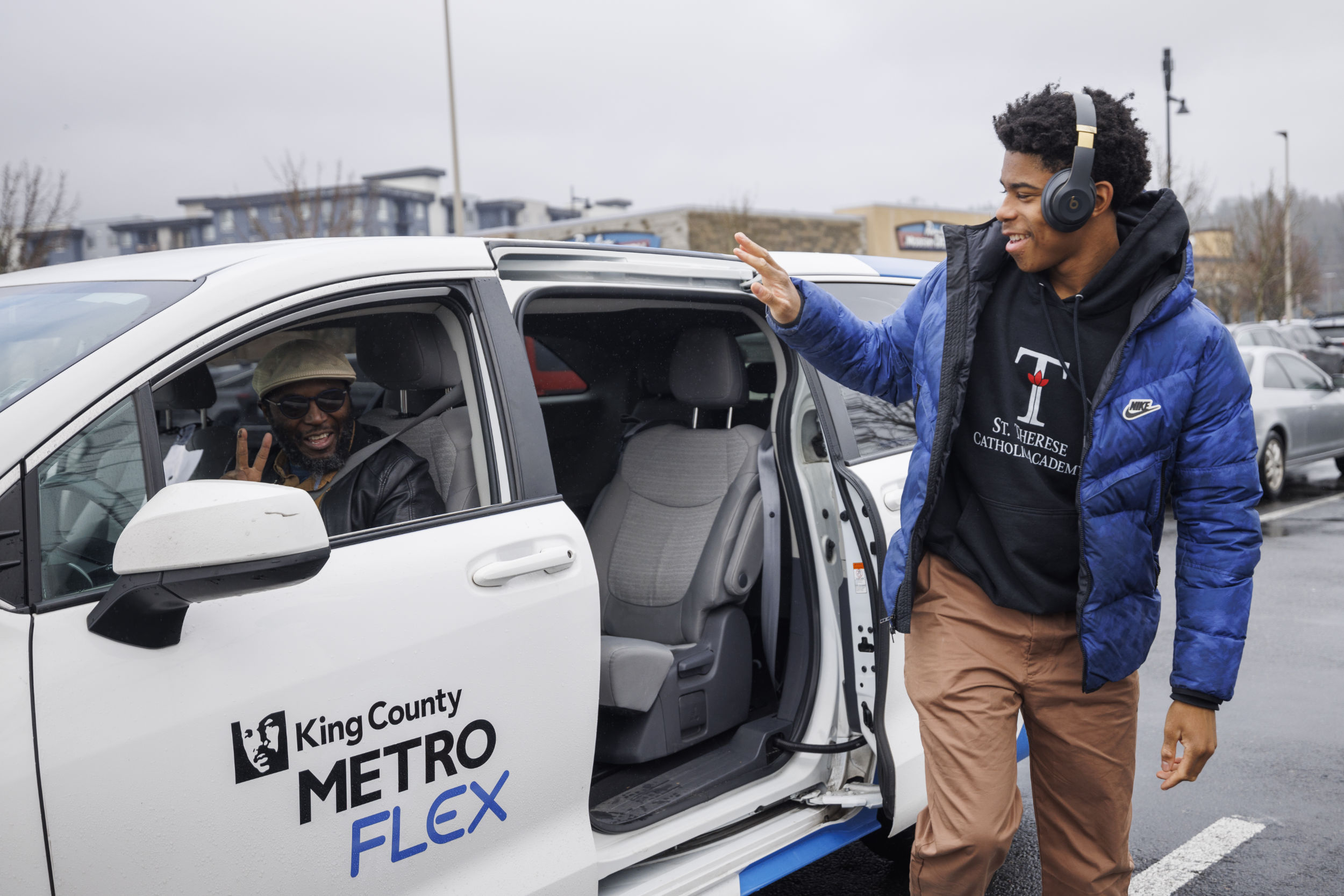 How is Metro Flex different from Community Ride? 
Community Ride was an on-demand, point-to point transit service in Sammamish, with trips available through the Community Ride On-Demand app or by phone. Key differences of the new Metro Flex program include a new app, new vehicles, new pickup and drop off locations, and information about other transit options. 
New App
There will be a new Metro Flex app replacing the Community Ride On-Demand app.  
New vehicles
There will be a new fleet of sleek, comfortable minivans replacing the coaches previously in use. Wheelchair accessible vehicles are also available. 
New pickup and drop-off method
The Metro Flex app will provide expanded pickup and drop-off locations, and clearly show how and where to meet your vehicle. Riders will receive a nearby pick-up location that may require a short walk at pickup and drop-off (note that riders requiring additional assistance can still request pick-up at their door).
Information about the new "hub" pick-up locations is limited at this time and we anticipate learning more as the program is implemented. They are typically at cross streets with a walking distance of up to 300 feet.
New notice of other transit options
Customers may be directed to an alternative transit option if they'll be best served by those modes. The Metro Flex app will give the best ride option based on provided pickup and drop-off points – whether that is a Metro Flex ride, a trip on the bus, or another transit service.  
Service Area
Sammamish Metro Flex offers flexible service throughout designated areas (see map below).
It serves the South Sammamish Park-and-Ride,  Issaquah Highlands Park-and-Ride and the neighborhoods of:
Klahanie
Sunny hills
Providence Point
Sammamish Highlands
For more information, please visit the Metro Matters blog and Metro Flex website.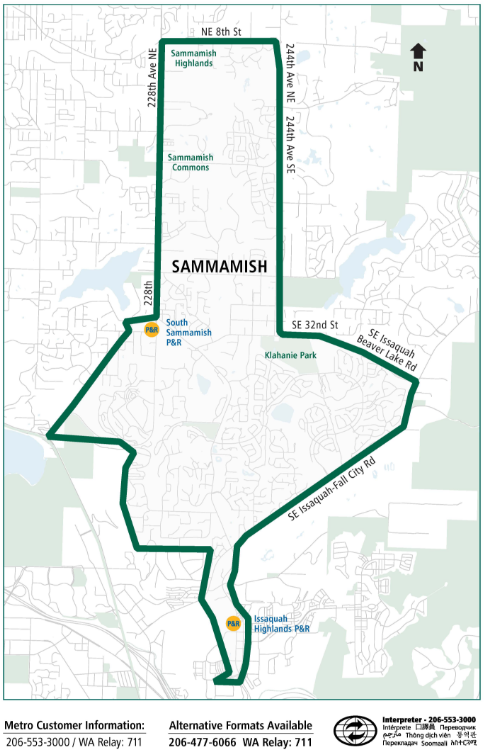 How does Metro Flex work?
When can I ride Metro Flex?
Metro Flex's hours of operation are:
Monday-Friday: 7:00am - 6:00pm
Saturday: 9:00am - 6:00pm
How do I reserve a ride?
Pick-up and drop-off is operates on-demand. Rides can be requested via phone or new app "Metro Flex." Reservations will be taken on a first-come, first-served basis.
Reservations can be made the following ways:
Download the app "Metro Flex"
Call (206) 258-7739 to book your ride today!
How much does Metro Flex cost?
Metro Flex rides cost the same as a Metro bus ride. Standard Metro fares apply.
Riders 18 and younger always ride free on Metro Flex and other transit in the region.
How do I pay?
Upon boarding, pay your fare with any of the following:
Regional ORCA card

Using an ORCA card lets you transfer between Metro Flex and buses, Sound Transit Link light rail or Sounder.
Credit cards, debit cards and prepaid cards: Payment accepted only in the Metro Flex app and by phone with a customer service agent.

This method does not allow you to transfer with a paid Metro Flex fare to buses, Link light rail or Sounder. In other words, you will need to pay again for travel on other transit vehicles.
Accessibility
Wheelchair accessible vehicles
Metro Flex has vehicles that are wheelchair accessible. For more information about accessible service and bus-acceptable wheelchair/scooter specifications, call 206-553-3000.
Service animals
Service animals are welcome to ride in Metro Flex vehicles without restrictions. Other dogs and cats must be in an airline-approved carrier in order to ride.
Baggage
Baggage and carry on: As Metro Flex rides are shared, each passenger is asked to limit personal items to a single piece of luggage or a reasonably sized bag. If your item doesn't fit, Metro Flex can't guarantee your ride.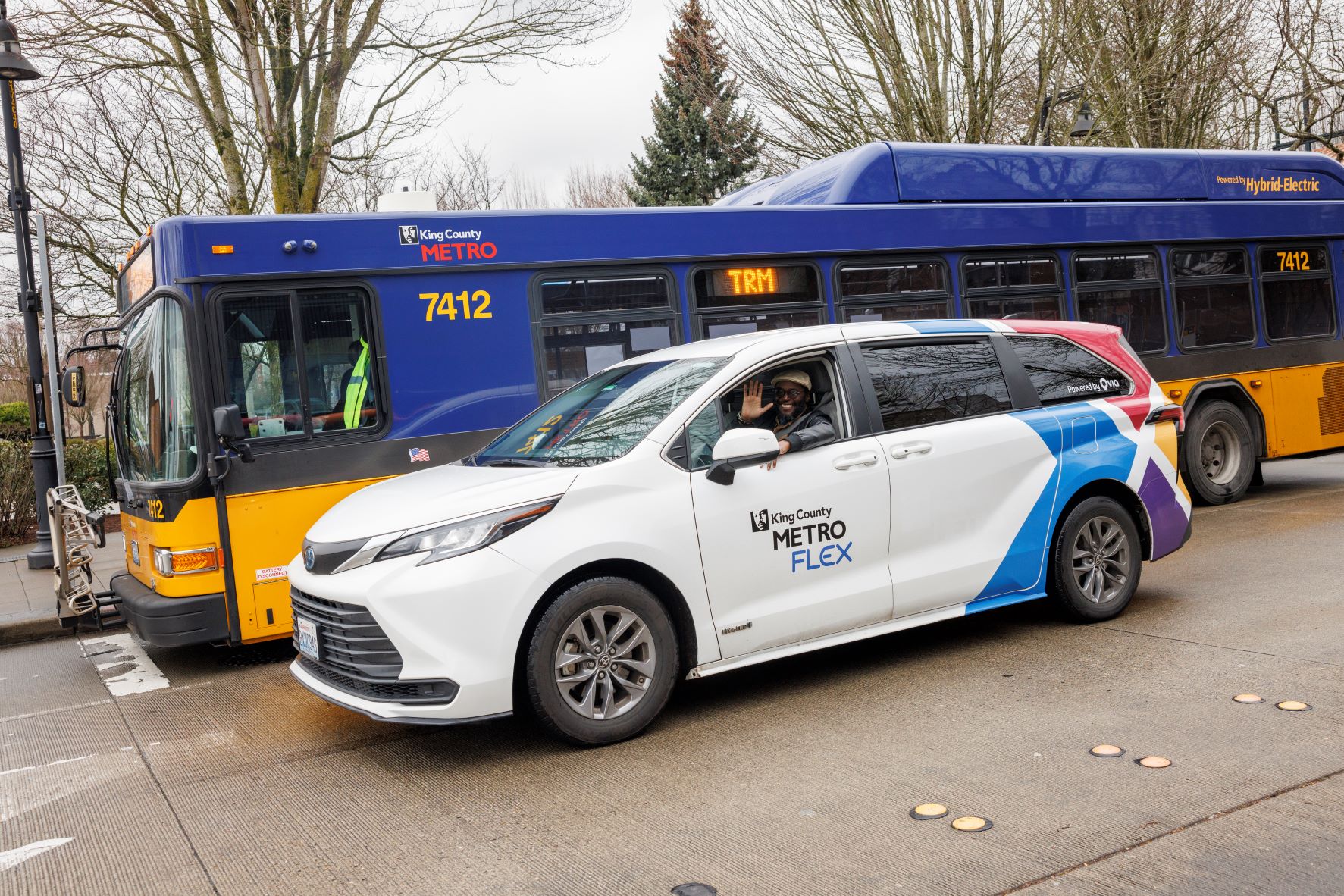 Bike and Ride
Yes, you can bring your bike! Before booking your trip, tap the "+" button after the "Traveling alone?" prompt on the Metro Flex app. Scroll down the list of options to "Add a bike." Click this option to dispatch one of the vehicles equipped with a bike rack.
Snow/Emergency Service
During snow conditions, the Sammamish Metro Flex service may be interrupted due to inoperable road conditions. In the rare event that Metro declares an emergency, it will not operate. Visit metrowinter.com and sign up for Transit Alerts to stay informed during adverse conditions, or call the reservation office at 1-855-233-6043.
More about Metro Flex
For more help using Metro Flex, please call 206-258-7739, email support-sea@ridewithvia.com or visit the "Help Center" within the Metro Flex app.
For general Metro questions or comments (i.e., to provide service feedback, to get assistance with trip planning or your ORCA card), please call King County Metro at 206-553-3000 or use this contact form.