When are permits required to remove a tree?
A Tree Removal Permit is required to remove significant trees within the City. See below for guidance about what makes a tree significant.
A Type B Right-of-Way (ROW) permit is required to remove and replace a tree that is located within the street ROW.
Tree Removal Permit Applications
A Tree Removal or a Type B ROW Permit Application Form must be submitted online at www.mybuildingpermit.com. 
On sites where development is proposed or anticipated, removal of any trees shall not take place until a permit for construction has been issued. Please see SMC 21.03.070.I.2.b for details. 
Sample site plans for tree removal
What to expect after you submit an application
Your application will be screened for acceptance within two business days.
If accepted, the application will be reviewed within five business days.
If not accepted, you will receive an email explaining why it was not accepted.
Once the review is completed, the permit or approval letter will be uploaded to www.mybuildingpermit.com.
Allowable Tree Removal
Sammamish Municipal Code 21.03.060 provides the following removal standards for significant trees. 
Lot Size

Percent Over
10 Years* 

Annual Number*

Cumulative Number Over
10 Years*



Less than 1/4 acre

50%

2

6

1/4 - 1/2 acre

40%

4

12

1/2 - 1 acre

30%

6

18

1-2 acres

20%

8

24

More than 2 acres

10%

10

30

* The number of significant trees allowed for removal is limited to whichever of these columns is lowest
What is a significant tree?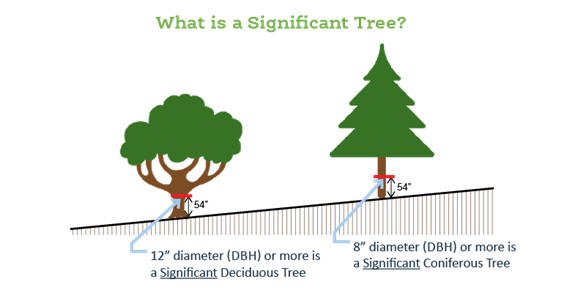 Significant trees require a tree removal permit to remove:
a Significant Deciduous Tree is 12" diameter (DBH) or larger
a Significant Coniferous Tree is 8" diameter (DBH) or larger
Please refer to our tree calculation guide for assistance determining diameter (DBH).
Informational Resources