Source Control – Business Inspection And Stormwater Pollution Prevention Program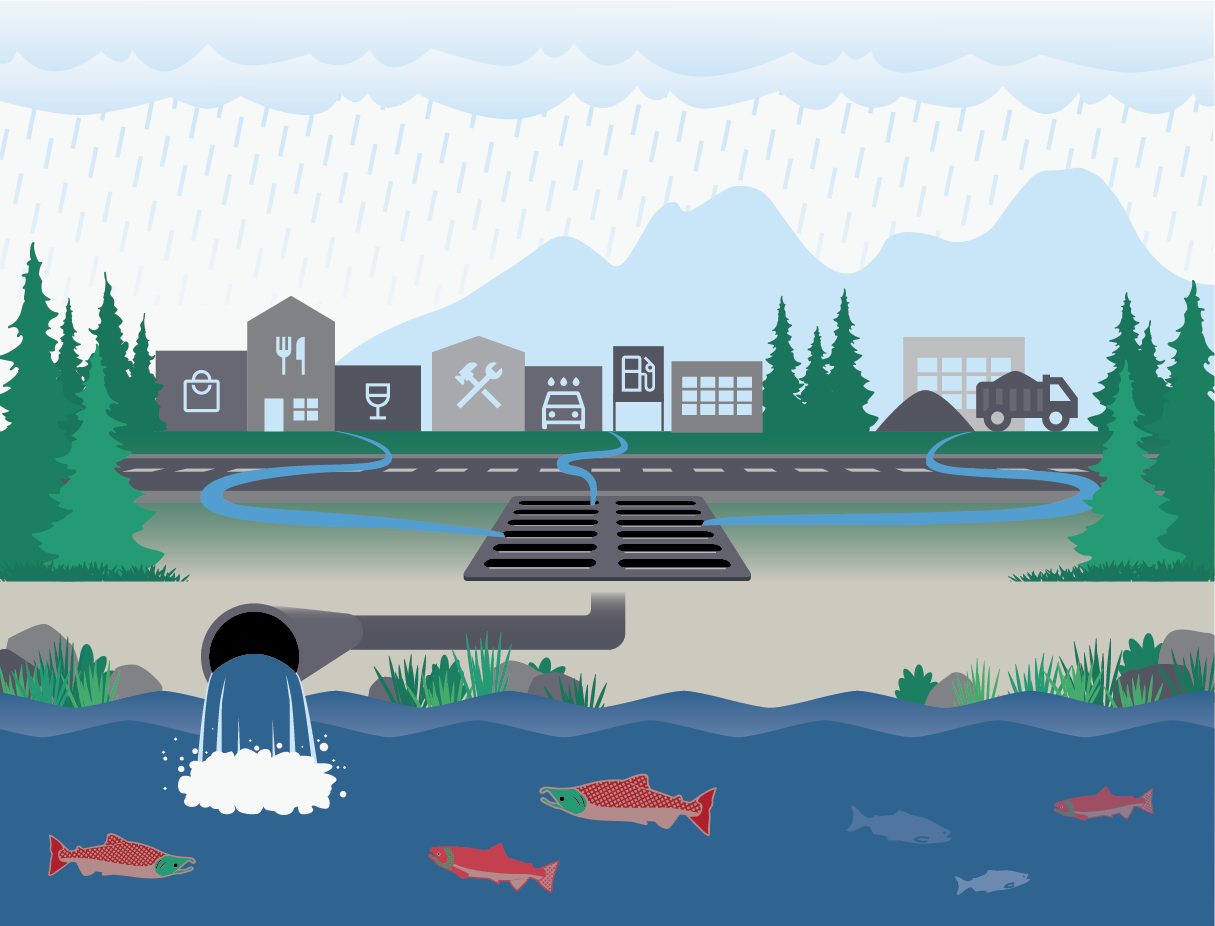 The City of Sammamish is launching a Business Inspection and Stormwater Pollution Prevention program. This program will help prevent stormwater pollution from businesses and government properties.
It implements federal and state requirements. More importantly, it helps keep our streams, lakes, and groundwater healthy for residents, businesses, and wildlife.
What is Source Control Stormwater Pollution Prevention?
When it rains, spills or improperly stored materials outdoors can get washed into lakes and streams. This creates polluted stormwater runoff that can harm the water, the ground, and wildlife habitat. 
Pollution Source Control is accomplished by business practices that keep pollution out of contact with rainwater and prevent unauthorized stormwater discharges.
In short, source control is controlling pollution to stormwater at the source. Examples of source control are covering dumpsters, proper use and storage of hazardous materials, and training of staff. These actions are referred to as Best Management Practices, or BMPs.
Examples of pollutants addressed by source control
Examples of some specific common pollutants and BMPs include the following:
Auto fluids
Pollutant: oil, fuel, solvent, automobile liquids, and other petroleum products and their wastes
Cleaning wastewater
Pollutant: commercial discharge from cleaning activities or restaurant waste
Stored materials and waste
Pollutant: institutional discharge, such as from materials stored outdoors and from dumpsters and compactors
What action is needed from businesses?
If you received a postcard from the City, register your business contact information on this webpage at the link below.
Audit your practices and ensure you are using BMPs that help prevent stormwater pollution.
Register Your Business
Please register your home or business with the City Stormwater Utility at sammamish.us/stormwater-registration.
In the registration form, please select Source Control if you received a letter or postcard regarding the Source Control Program.
Free Technical Assistance
The City will provide free technical assistance to businesses that could pollute stormwater. The program includes all businesses with the potential to cause stormwater pollution, even in small amounts. Qualifying businesses can receive a site visit and personalized advice on how to prevent pollution.
What types of businesses qualify?
Included are a wide variety of business types and commercial entities that:
The City's National Pollutant Discharge Elimination System, or NPDES, Permit provides guidance for what types of businesses to include.
If you received a letter or postcard about the program, your business likely qualifies. This is the case even if you have other environmental permits.
Business types that qualify for the program include, among others:
automobile and equipment repair and rental, auto body
gasoline stations, car washes, auto detail
restaurants, cafes, bars, bakeries, food trucks
veterinarians and pet shops
dentists and medical laboratories
institutions, schools, and municipal sites
mobile businesses that provide on-site services
landscapers, storage yards, and sites with outdoor operations
The full list of qualifying business types by industrial classification code can be found in Appendix 8 of the NPDES Permit.
Why we have this program
The Washington State Department of Ecology requires Sammamish and other jurisdictions to have a Source Control Program beginning in 2023. This requirement is through the City's NPDES Permit. Municipalities over a certain size throughout the state are required to have source control programs by the Department of Ecology.
Timeline
August 2022: develop inventory of qualifying businesses
May 2022: update municipal code
November 2022: announce Source Control – Business Inspection and Stormwater Pollution Prevention Program to potentially qualifying businesses via postcard and webpage
December 2022: send upcoming inspection notification to qualifying businesses
January 2023: begin business inspections and provide technical assistance
Ongoing: annual or semi-annual inspection and technical assistance at qualifying businesses